You are here: Homepage > Our services > External membership
External membership
Visit our libraries during staffed hours
Use our printed book and journal stock for reference use.
Use the library computers, photocopier and scanner. Please note that charges apply for printing and photocopying but that scanning is free.
Borrow up to 4 items from library stock and get simple enquiry help from library staff.
Advice on setting up, and using, an NHS Athens account (where eligible)
Please note that charges apply for printing & photocopying and that fines are charged on overdue books. Not all libraries have exactly the same facilities and equipment so please check before your visit if you are unsure. Unfortunately external members are not able to use our document supply, training or literature searching services. They are also not allowed to use the library outside of staffed hours.
If you work for the NHS, or provide services to the NHS, in Leicestershire but are not covered by the full membership category, you can contact the Library Services Manager to discuss paying for additional services on an individual or group basis.
If you work for an NHS Trust outside Leicestershire, you should contact your own local library service for details of what services they can offer you. To find a library near you, please search the Health Library Directory.
How to join
Please visit one of the libraries, with your work or other identification, and fill in a form or bring a completed form

with you.
Our social media:


Reserve & renew: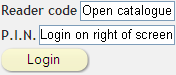 Catalogue search:
Catalogue search may be affected by pop-up blockers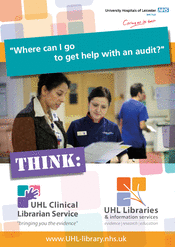 The department for
evidence-based healthcare
in the Leicestershire NHS